novels, magazines, textbooks, guides, brochures
|
Translation of PDF books, magazines, brochures and textbooks
The translations of books performed by our agency include translating both novels, magazines, guides as well asbrochures. We also perform translations of school textbooks.
Translation of a book from English into Polish – price:
Get

a free quote
Select the type of


translation
Success!
You will receive a quote from us shortly.
Lubelska firma opracowała aplikację, dzięki której tworzenie przekładów audiowizualnych jest znacznie prostsze.

czytaj więcej →

Polscy przedsiębiorcy wierzą w swoje biznesy i chcą skalować się także na inne rynki.

czytaj więcej →
Masz pytania?
Zamów darmowe konsultacje
Zostaw numer, oddzwonimy nawet w 15 minut i sprawdzimy, czy możemy Ci pomóc.
Udało się!
Wkrótce do Ciebie zadzwonimy.
Klikając "WYŚLIJ" akceptujesz
politykę prywatności
Skorzystaj

z zaufanego wykonawcy
The perfect translation of a book is a key element of its future success, regardless of whether it is a thriller or a work from the field of popular science. Unreliable translators can waste the potential of a book and distort its reception, making it seem like a work which has been written unprofessionally.
As a translation agency, we are able to take on translations of a wide range of literature and PDF manuals, among others from English, German, Russian or French.
With a group of reliable and experienced translators who possess specialist knowledge in many fields at our disposal, we are able to translate PDF books in a short amount of time, maintaining its style and adequate vocabulary.
By using the price list embedded on the website, you can make an online appraisal for the translation of a book in PDF, which makes the process of ordering a translation of the book as simple as possible.

Czy wiesz, że masz

gwarantowane
translation of a book in PDF from English into Polish performed by specialists,

consistent terminology of the book's translation,

preservation of the book's formatting,

a short deadline,

a 3-month warranty — in the case of reservations, we will make a free correction of the book's translation.
Obsługiwane

dziedziny

Subject matter of books translated by us:
religion, patriotism, love, politics, philosophy, history, adventure, psychology, thrillers such as fantasy, biographies

Literary works
Prose: novels, short stories, full-length stories, legends, diaries and parables.
Drama: tragedy, comedy
Akceptowane

formaty

including Microsoft Word, OpenOffice, Pages, PDF, InDesign, scans.
Translating a PDF book

How to start?

How to translate a book? Book translations must be faithful to the original. The translator must reliably reflect the structure of the represented world and skilfully evoke the emotions aroused by the original in the reader. This task is not an easy one. Fortunately, our translators of books stand out in terms of their exceptional creativity. Some even think that the translated version of the book is often better than the original.

The ability to adapt the text is very useful because often there are phrases which are difficult to translate in books, such as idiomatic expressions and slogans. The most complicated stage of translating books is searching for the cultural or national equivalent of a given expression. It happens that some words simply do not have their counterpart in the target language, for example jokes, feelings or anecdotes. This allows the translator to translate the given word or phrase freely.

To ensure that the content of the book is rendered as faithfully as possible, we employ translators from around the world. The book translations performed by them are of the highest quality. This is very important because a perfect translation is the key to the future success of a book.
I want to order a translation of a book

from English into Polish

The translations of books from English into Polish performed by our agency include novels on various topics, poetry, magazines, guides and brochures. We also perform translations of school textbooks. Our agency translates books from English into Polish and from German into Polish in a short time, maintaining the style, formatting and the adequate vocabulary of a book.
How to order a translation
of a book
Ordering a translation of a book from English into Polish with us is a piece of cake! Using our platform, you can efficiently price the translation online and then order a translation of the book by making a payment using the platform przelewy24.pl.
* For larger files, we will prepare an individual pricing of the costs associated with the translation.
Translation of PDF books

Price list

How much does it cost to translate a book from English into Polish? Since books are diverse in terms of their themes, the price for each book is different. The price list for translating a book from English into Polish is adapted to the level of complexity of the text. Using our platform, you can efficiently price the translation online.
Nie tylko tłumaczenie
Nie tylko Pan Marcin pomógł mi przetłumaczyć książkę, ale też przekazał publikację do korekty native speakera z Wielkiej Brytanii i przygotował plik do druku. To się ceni.
Gorąco polecam i dziękuję!
Dodaj opinię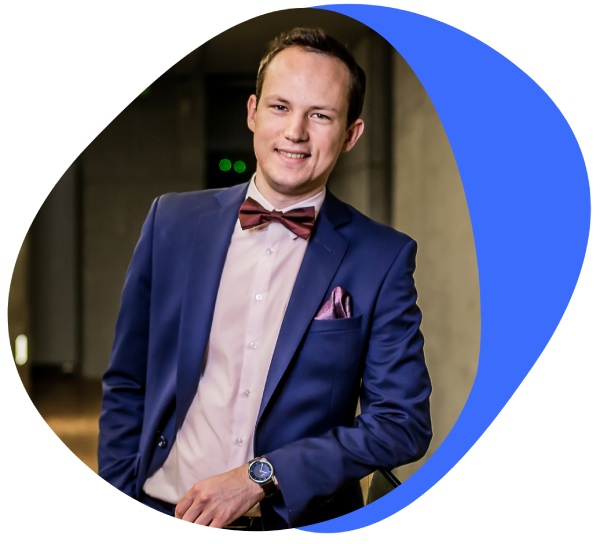 Wierzymy,
że technologia używana z rozwagą, pomaga łączyć, a nie dzielić. Wykorzystujemy ją na co dzień. Bazując na kilkunastoletnim doświadczeniu z roku na rok, przyśpieszamy proces realizacji tłumaczeń. Szybkie płatności, narzędzia CAT i najnowsze technologie pozwalają nam skrócić czas obsługi klienta. Budując doświadczony zespół tłumaczy, zrobiliśmy krok dalej, oferując 3-miesięczną gwarancję na usługi.

Chcemy łączyć i już to robimy. Nasze aplikacje do tłumaczenia, sprawdzania pisowni, jak i tworzenia napisów do filmów upraszczają codzienną komunikację ponad pół miliona użytkowników. Wymagamy od siebie dużo, bo dla nas zadowolenie klienta to podstawa.